At the end of last year we released our newest Kathryn Freeman puzzle, Literary Dogs, which is a super-wide playful image of dogs and books (and a few cats too)
Here is a Q&A with her about the work.
Question: Literary Dogs is a a huge five foot tall mural in the Connie Morella Library in Bethesda Maryland.
Did you paint all that yourself?
How long did it take?
Answer:  The wall in the Bethesda Library is 40' long and 5' tall and I decided to use the whole space so that the mural would have a big impact adding color and creating a lively mood for the people who work at the library as well as visitors.  
I painted the mural in my rather small studio on a giant scroll contraption we built, rolling out 8 feet of canvas at a time!
Here it is unrolled at the library:
It took me 5 weeks working 6 days a week and on the seventh day we rolled up one section and rolled out the next blank 8 feet of canvas.  Rolling it took four people because of the weight. 
It is painted in Golden Matte Fluid Acrylics on primed canvas. 
The mural was installed April 12th by Jim Lackford of Paper and Paint in Silver Spring. Thank goodness for his expertise!
It is nice to have a mural in my own community. And now I am thrilled that Artifact has made the mural into a jigsaw puzzle so many more people can enjoy it. 
Question: We hear this mural was inspired by the dogs and cats in books, where did that idea come from?
Answer: The subject of the mural was left up to me as long as it related to books and reading. I am very passionate about animals and when I was growing up, I was an enthusiastic reader of any novel in which a main character was on four legs. 

Question: How did you figure out which books to include? I can only name Where the Red Fern Grows (dogs) and Kafka on the Shore... Is each dog/cat inspired by a particular character?
Answer: There are some wonderful works of fiction about dogs, so I decided to choose the best of the characters from those works and make them the subject of the mural.
I started by checking out as many of the classic books as I could find and rereading them to remind myself of the physical appearance and personalities of each dog...and a few cats.
I also hoped that by drawing attention to these great stories more people would discover them and enjoy them as much as I did. 
Some of my favorite animals/books included in the mural are "Big Red"- the large Irish Setter, "Old Yeller", "White Fang" from the Jack London novel, and the Golden Retriever, Bull Terrier and Siamese cat from "The Incredible Journey".
Question: Did you have dog and cat models for the mural?
Answer: My dog Rembrandt modeled for Old Yeller and my dog Birdie modeled for Skip (The Jack Russel leaping through the air). 
Dogs and cats belonging to neighbors and friends modeled for many of the other characters. 
It was cheerful and energizing to have so many dogs and cats in my studio for a while! I miss them!
Here is a list of all the dogs and cats in case anyone wants to match names with faces once their puzzle is complete!
The Wizard of Oz- Toto- Cairn Terrier- by Frank Baum 1900
White Fang- baby wolf- by Jack London 1876-1916
The Call of the Wild- Buck- St. Bernard/Scotch Shepherd mix- by Jack London 1903
Old Yeller-lop eared Yellow Lab/Masiff mix- by Fred Gibson- 1956 Newberry winner
The Thin Man-Asta-Schnauzer-by Dashiell Hammett
The Little House on the Prairie- Jack- Brindle Bulldog/pitbull ?and Bandit- Border Collie - by Laura Ingalls Wilder 1870-1894
Beautiful Joe- Joe-Bull Terrier/Fox Terrier mix- by Margaret Marshall Saunders- 1893-entered in a literary contest sponsored by the American Humane Education Society. There is a statue of him in Meaford in Southern Ontario.  
Above all, "Beautiful Joe" is a call for an end to cruelty to animals, a message which it delivers effectively in the course of a story enjoyed and loved by generations of readers young and old.
Big Red-Irish Setter- by Jim Kjegaard 1956
The Incredible Journey- Bodger-Bull Terrier, Golden Retriever Luath and Siamese Cat Tao. Sheila Burnford 1961
Thy Servant Dog-Boots-Scottish Terrier-by Rudyard Kipling- 1930
Oliver Twist- Bullseye- belongs to the villain Bill Sykes Bull Terrier or Bulldog- by Charles Dickens 1837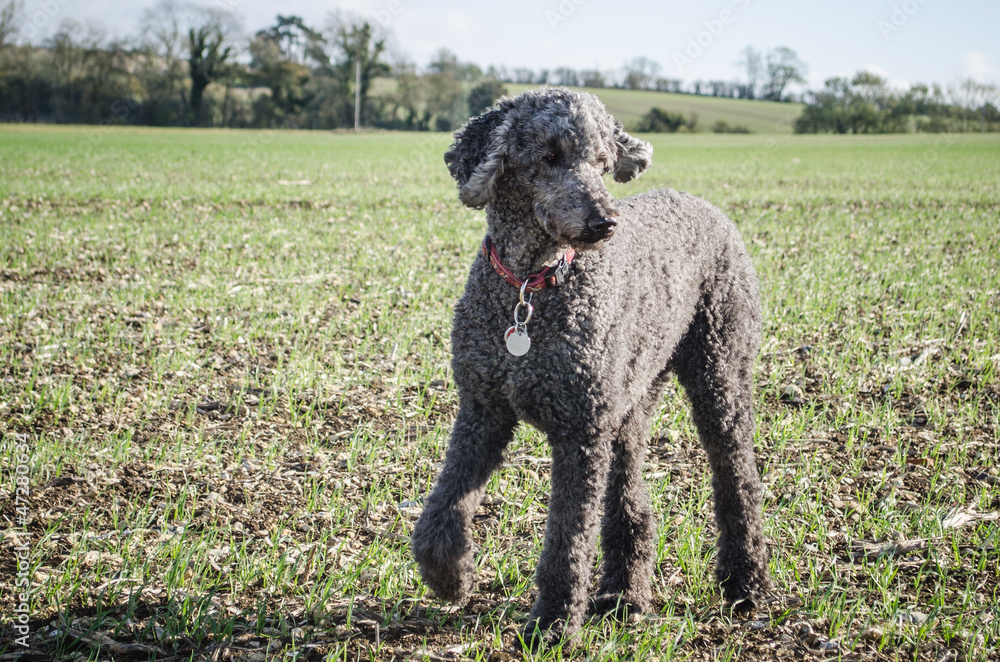 Travels with Charley- Blue Standard Poodle- by John Steinbeck, 1962
Harry Potter- Fang-Boarhound/Great Dane "enormous and black" - Hagrid's pet- by JK Rowling
Lassie Come Home- Rough Coated Collie-by Eric Knight 1940
Where the Red Fern Grows- Old Dan and Little Ann-Redbone Coonhounds -by Wilson Rawls 1961
The Phantom Tollbooth-Tock- a big mutt- with a watch in his body by Norton Juster 1961
Peter Pan-Book Form-"Peter and Wendy" "Peter Pan in Kensington Gardens 1906- Nana- a black and white Landseer Newfoundland- Barrie's own dog- nurse dog pushes a pram and often carries a towel for bath time and sometimes an umbrella in her mouth, as well as Peter's shadow.    By J.M. Barrie http://www.dogfinearts.com/article/nana-from-j-m-barries-peter-pan/ 
Ribsy-Henry Huggin's Dog – large black and white scruffy terrier mix-Beverly Cleary 1950
My Dog Skip-Jack Russell Terrier- Willie Morris 1995
Sounder  - coonhound/mutt -maybe Redbone and bull dog -by William H. Armstrong 1969
Because of Winn-Dixie- Picardy Shepherd large tan wire haired mutt - by Kate Dicamillo 2000
AND THE CATS...
Harry Potter and the Prisoner of Azkaban-Crookshanks - large shaggy yellow tabby - JK Rowling
 Puss in Boots – tabby who wears boots originally 17th century French Fairy Tale- clever trickster cat 
Breakfast at Tiffany's – named Cat -orange tabby- by Truman Capote-1958
Tao- The Incredible Journey- Siamese
Check-out all of our Kathryn Freeman puzzles.