Jigsaw Java is hosting a puzzle celebration day and competition for a $500 grand prize.
The celebration will be held on Saturday, January 31st, from 10am – 3pm at:
2761 Fair Oaks Ave. in Redwood City (south of San Francisco).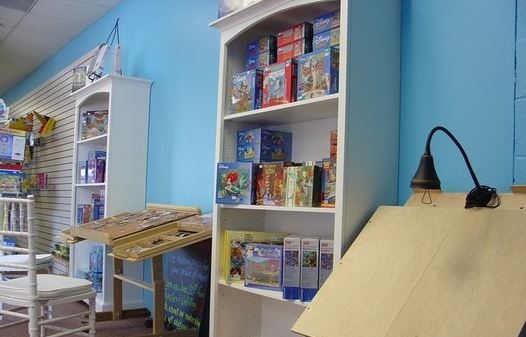 How it works:
Entrants pay $20 to compete.

Teams of 4 compete to put together a 1000 piece jigsaw puzzle.

All teams get the same puzzle.

All puzzles are wrapped so no one knows what the picture is of the puzzle.

All teams start at the same time and whichever team finishes first wins the Grand Prize money.
Second and third place teams win gift certificates for puzzles.
They have room for 20 teams and word is over 10 teams signed up already including a participant coming from Vermont.
As part of the celebration,  Bruce Gehman and Joe Seymour will give demonstrations on hand cutting wooden puzzles. They will also bring puzzles from their collection and are available to discuss historical facts about puzzles.
We will also have various other puzzles and games available to play with and for purchase.
If you don't want to compete but want to check out the festivities, then there is no charge for that
It's very fun trying to figure out which team is going to actually win.
If by chance you and anyone else you know happens to want to enter, please register at www.jigsawjava.com.
 Hope to see some of you!
For more info contact Mary Albitz
Jigsaw Java
mary@jigsawjava.com