Google Art has amazing high-res scans of many of the best paintings in the world.
They just announced a new add-on that shows you a new piece of art from Google Art everytime you open a new tab your Chrome browser.  
Want to try it out?
Here are some step by step instructions. 

Step one:
Click on or copy the following link in your browser: https://chrome.google.com/webstore/detail/google-art-project/akimgimeeoiognljlfchpbkpfbmeapkh. Click on the ADD TO CHROME button.


Step two:
After clicking on the blue ADD TO CHROME button, the following pop-up window will show up to confirm your choice. Click ADD.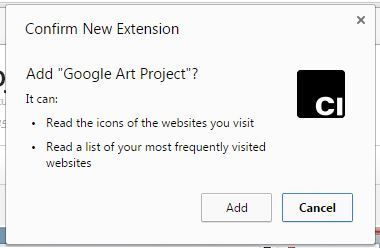 Step Three:
Now the Google Art Add-on is installed in your chrome browser! To explore it, click on the new small black CI icon on the top right of the browser window. 


When you open a new Tab, you will now see something like this: